Favour from Token, our line of flavour-forward THC drink mixers, is officially on shelves in Alberta's recreational cannabis stores!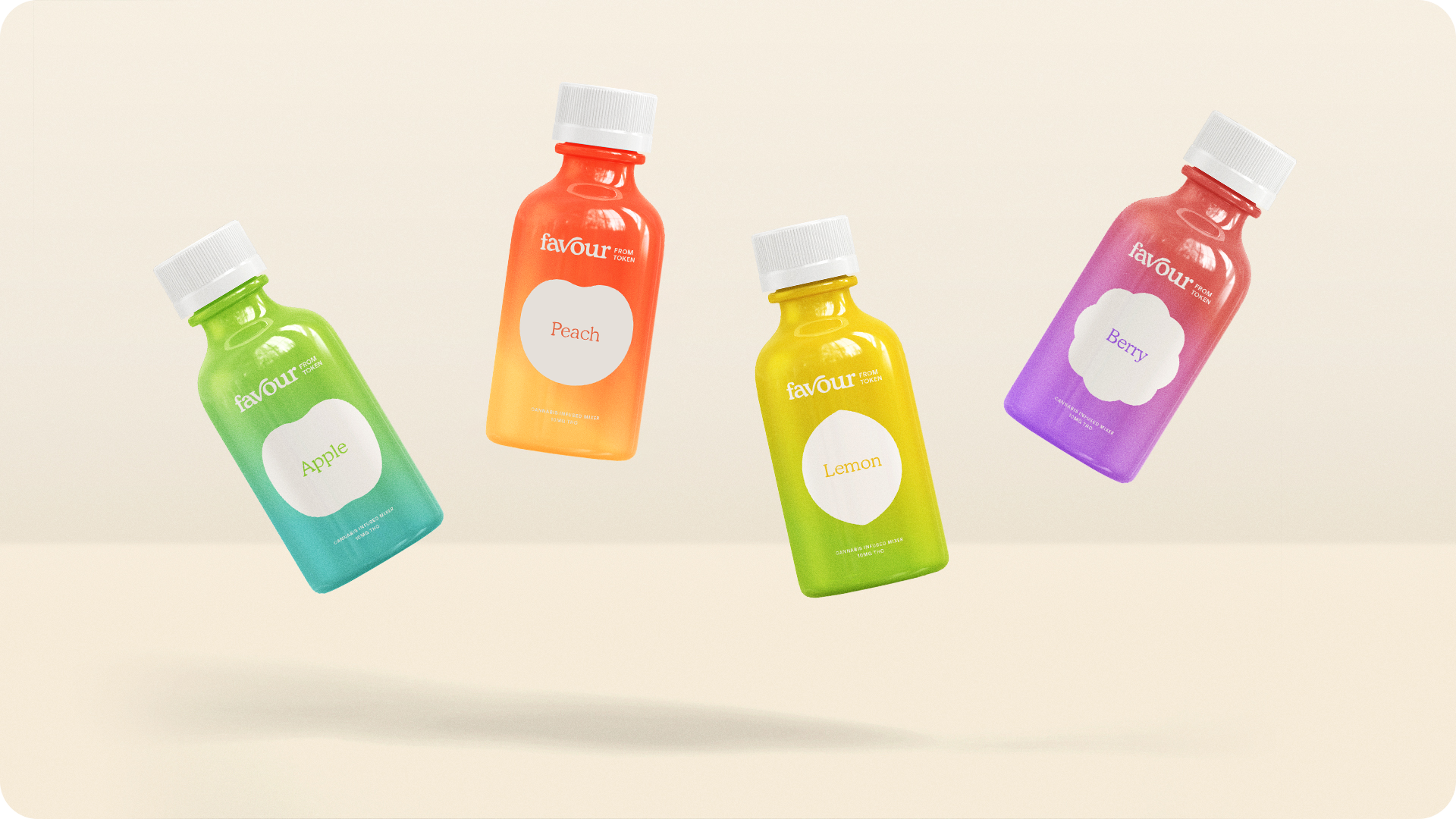 Juice-based and distinctly delicious, Favour has 10 mg of nanoemulsified THC for a fast-acting, sessionable drink that actually tastes good. As a water-soluble formulation, Favour can be added to all your favourite beverages both hot and cold. The 60 ml bottle is grab-and-go for easy transport, ready to share or to savour solo.
Like a stronger buzz? Pour out the full 10 mg. Want to take things a bit slower? Use a shot glass to measure out one ounce (30 ml, or half the bottle) and mix into a larger beverage. Add a splash to morning tea, mix into a glass of soda, or create a mocktail at night. The nanoemulsified formulation means there is no bitterness nor cannabis taste and allows for a fast-acting high. The effects are likely to last a few hours, so turn up, chill out, wind down – your experience is yours to choose. Favour is designed to provide a sessionable experience, so you can mix and match your drink(s) of choice.
We're excited to deepen our partnership with AGLC to provide Albertans with the most delicious cannabis drink options. We'll continue to build up our range of cannabis products to serve all Canadians. Any requests for our next flavour options? Please share!
For more details, see the full media release below. And go ahead, Alberta, do yourself a Favour. Mix in some flavour.
Cannabis-infused drink mixers Favour from Token now available in Alberta stores 
Edmonton-based Token Naturals offers their flavour forward and sessionable THC beverage to Alberta customers
EDMONTON, AB – Token Naturals Ltd. ("Token Naturals", "Token") has announced that its line of flavour forward cannabis-infused drink mixers is now available in Alberta stores. Favour from Token is a water-soluble beverage mixer that offers 10 mg of nanoemulsified THC in each single serving drink format. As a drink shot made for mixing, each flavour is made with real fruit juice and a formulation that eliminates the cannabis taste and smell often found in cannabis drinks.
In a 60 ml (2 oz) serving size, Favour from Token mixers allows consumers to measure out their desired THC content. The convenient and transportable format can be added to any drink of choice, hot or cold, for a fast-acting and sessionable experience that doesn't compromise the drink's quality. The nanoemulsified formulation ensures a rapid onset of effects that are likely to last for a few hours. With its enticing flavours and unique application, Favour from Token offers a refreshing alternative to ready-to-drink (RTD) cannabis beverages. The drink mixers provide consumers with more options and the ability to create their own custom beverages that are interchangeable with existing RTD products.
"We are excited to introduce Favour from Token to the Alberta recreational market just in time for summer," said Keenan Pascal, CEO at Token Naturals. "We opted to create a beverage additive rather than a ready-to-drink for its convenience factor and adaptability. We've seen both recreational consumers enjoy the size, the quick onset, and the flavours themselves. You can treat as a shot or mix it into any liquid – it's a truly versatile and flavour-packed product."
Favour from Token is available in four flavours:
Token's team brings unique experience and success in the consumer packaged goods space. The company also manufactures and distributes Token Bitters, a line of cocktail bitters sold across Canada and exported to Asia. Token Bitters is Alberta's leading bitters brand and the company has used this expertise in flavour science to bring Favour from Token to the Canadian market.
Based in Edmonton, the privately-owned Token Naturals also produces Token Craft, a line of rotating small batch flower cultivars grown by Alberta's microcultivators, and Token 600, customizable CBD and THC oils. In addition to their own product lines, they also serve industry clients with manufacturing, packaging and sales services. Favour is also currently available through medical distributors and in the Ontario and Saskatchewan recreational markets.
For more information about Favour from Token and where to purchase, please visit tokennaturals.com/favour.
Token Naturals Ltd. is an Edmonton-based independent cannabis company creating products for companies and consumers. Token's central Edmonton facility manufactures a range of cannabis products for the Canadian market with a focus on supporting small local businesses.
www.tokennaturals.com
@tokennaturals on Instagram, LinkedIn and Twitter
For media inquiries, please contact:
Carla Mitchell
carla@tokennaturals.com
604.505.4010