Today, we have the privilege of sharing the inspiring journey of Brian and Chanttelle, the husband-and-wife duo behind micro-grow Into the Weeds, located in Rocky Mountain House, Alberta. Their story is one of resilience, personal healing, and a deep passion for cannabis. Their unique indica-dominant cultivar, Mimosa Orange Punch, will be the first showcased under our new Token Craft brand.
Chanttelle's life took an unexpected turn when a car wreck left her with severe injuries. Faced with the challenges of managing pain and coping with the side effects of pharmaceuticals, a doctor recommended exploring the therapeutic potential of cannabis. The positive impact of cannabis on Chanttelle's well-being became evident, leading her to become a medical customer seeking a consistent and reliable supply.
Craftsmanship and Organic Cultivation
Frustrated by the lack of availability and soaring prices, Brian proposed a solution: they would grow their own cannabis. In 2019, they embarked on their journey, starting with an organic approach using living-soil cultivation. Armed with a passion for craftsmanship and a caretaker's background, Brian meticulously tends to their cultivation rooms by hand still today.
Token Craft's Debut Cultivar: Mimosa Orange Punch
With the goal of providing consistent and high-quality products, Into the Weeds focuses on high THC cultivars, organic inputs, and living soil cultivation. Brian's meticulous hands have nurtured about fifteen different cultivars. Every step of the cultivation process, from seed to harvest, is carried out with care and attention to detail.
Token Craft brings you artisanal, small batch flower grown by Canada's microcultivators. These rotating strains of specially selected flower were created to highlight the country's talented growers and unique cultivars, and to get more small craft batches into Alberta stores.
These cultivars are selected for their premium quality and skilled treatment. All our Craft flower has been hand treated; our microcultivator partners interact with their plants by hand every day. Each small batch was specialty grown, flushed, hand harvested, hang dried, hand trimmed, and cured to maintain the best flavour and experience.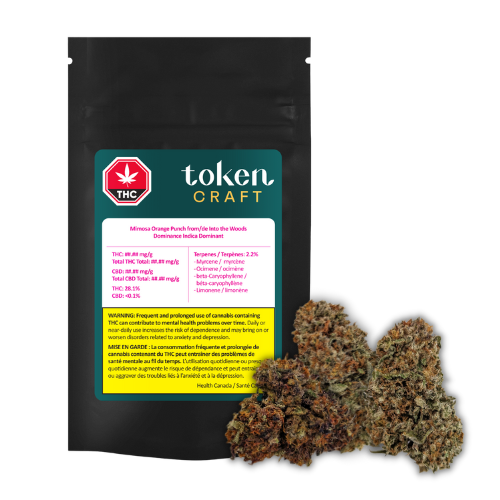 Token Craft's debut cultivar is none other than Into the Weeds' Mimosa Orange Punch, an indica-dominant flower that encapsulates the positive nature of the plant. By bringing together the expertise of Into the Weeds and the of Token Craft, we aim to deliver an unparalleled cannabis experience to our customers.
By choosing Token Craft, you're not only experiencing the love and dedication that goes into each bud, but also contributing to a vibrant and sustainable craft cannabis community.
Sharing the Love and Benefits
Brian and Chanttelle's mission extends beyond their own journey. They aspire to share the love and benefits they have experienced through cannabis. Into the Weeds aims to make a positive impact on people's lives by offering high-quality craft cannabis. Their commitment to organic inputs and living soil cultivation ensures that their cannabis resonates with both the environment and the well-being of consumers.
Follow Into the Weeds on Instagram @into_the_weeds_craft_